Craft a Custom Outdoor Space that Mother Nature Would Approve of with Our Sustainable Landscaping Services in Parker, Colorado
Lowering Your Environmental Impact is Easy with Our Passionate and Sustainability-Certified Staff
Living in Colorado means you get to experience the beauty and grandeur of nature every day, and we applaud you for taking steps to preserve that unique experience. Here at American Design & Landscape, we're passionate about providing sustainable landscaping solutions to homeowners all over the Parker area who want to reduce their environmental impact and give back to the earth. A sustainable landscape preserves limited natural resources, reduces waste generation, and helps prevent air, water and soil pollution.
From certified sustainable designers to modern water-saving irrigation systems, we take a multidirectional approach to creating a sustainable landscape that's custom designed for you. If you're looking to reduce your organic waste and give nutrients back to the soil, our experts can help you. Our sustainable practices are incorporated throughout our work and include: building healthy soils with organic soil amendments, using of mulch in the landscape to help retain water and keep plants hydrated, a water efficient irrigation system, use of slow release fertilizer, mulching grass clippings instead of collecting and bagging them, selective pruning, recycling and composting of organic material, use of synthetic turf, use of permeable pavers, and renovating old inefficient landscapes.
No matter what you want to build, from peaceful outdoor living spaces to vibrant landscapes, we utilize sustainable practices throughout our work. Get in touch with our team today to get started!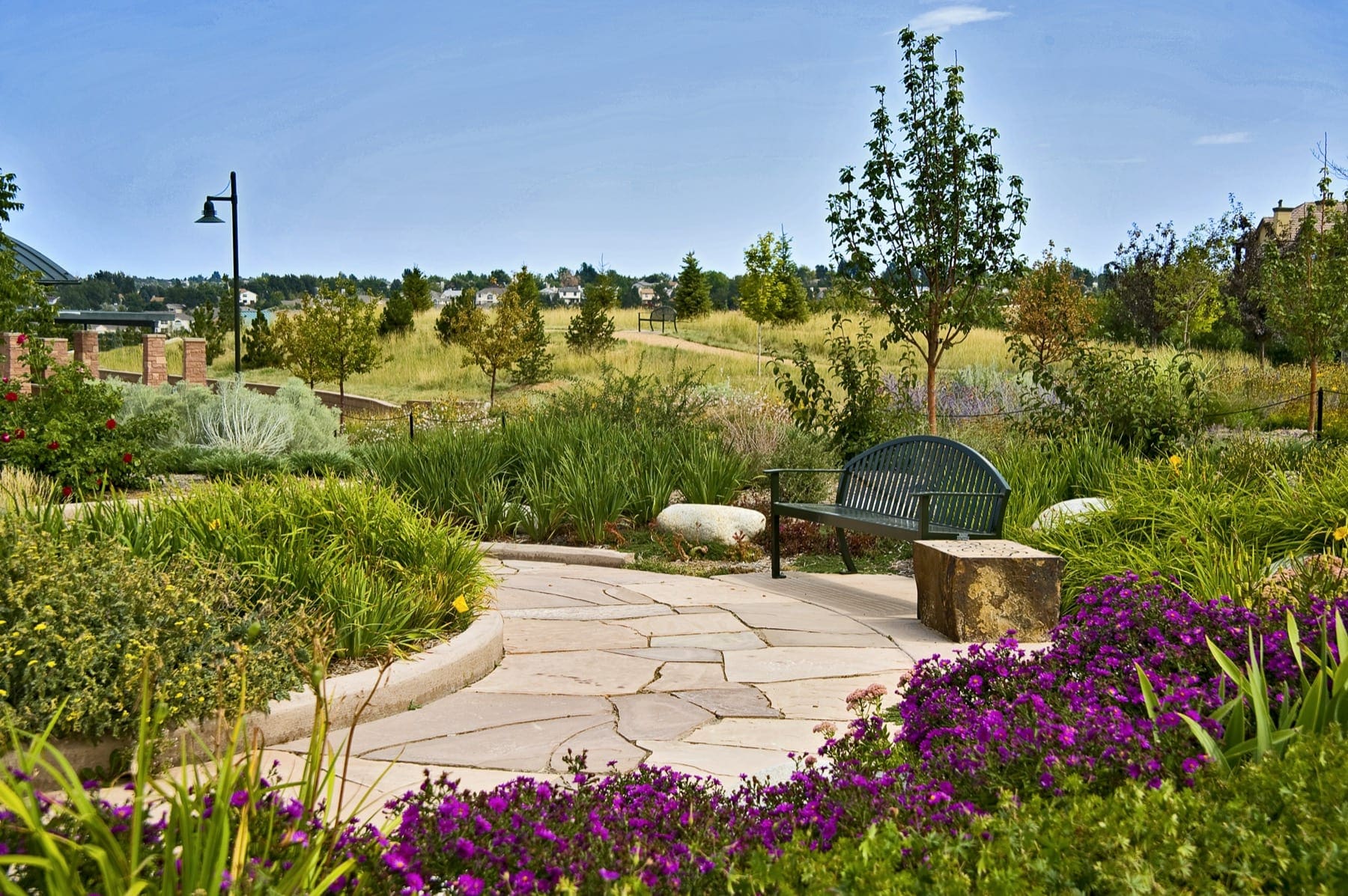 See What Other Parker Residents Have to Say About Our High-Impact Sustainability Measures
Joanna and I thank you for a wonderful job. From start to finish the experience has again been wonderful. From the planning and communication to the effort of your employees including daily and final cleanup was excellent.
- Brett A.
Not only did they complete the job in a timely manner but also ended up going above and beyond with leaving my back yard looking better than when they arrived on the first day.
- Emily E.
ADL has been our landscape maintenance contractor for more than 7years now and they do a fantastic job.  I work with Michael and he is great.  He is responsive to our needs, returns phone calls quickly and shows a genuine concern for our property and the importance of keeping it looking beautiful.  He keeps us informed of the progress of all on going projects and sees them thru to fruition.  ADL uses quality plantings and products and is very reasonable in keeping our costs within reason.  They also do our snow removal during the winter and keep our streets and sidewalks clear and safe all winter long.  In short they are the best.  I would highly recommend ADL to any community and or individual any time.  In short they are the best landscape and design and landscape maintenance company out there. 
- Steve C.
We had quite a bit of landscaping done in our backyard and we were extremely impressed with American Design and Landscape. Mike did a great job putting together a plan as well as making great suggestions to us to help our maintenance be less. The project started right on time and the crew worked hard every day providing us with a beautiful new landscape. They also finished right on time and left our yard very clean. I'd recommend this company to anyone. We definitely will be using them for any future projects we have. Thanks American Design and Landscape!
- Ashley D.
Great company to work with. Easy to meet, on time and great design work!
- Michael H.
After over 50 years of working in the Parker, Colorado area, we've accumulated a lot of praise for our thoughtful, design-focused services. Your neighbors in places like Pradera, The Timbers, and Idlewild have high remarks about their experience working with the certified sustainable designers on our team. To read what our past customers have to say about their sustainable landscaping experience with American Design & Landscape, visit our testimonials page.
Sustainable Design Is a Cost-Effective, Convenient, and Exceptionally Gorgeous Solution to All of Your Landscaping Needs
While it's always great to make environmentally responsible choices, the benefits of our sustainable landscaping services go far beyond reducing your environmental impact. When you team up with our expert staff for your landscaping needs, you'll experience the ease and consistency of our communication and design oriented process. In addition, your unique design ideas will never be lost in our customer-focused process that puts your ideas first. Our sustainable landscaping services also provide the opportunity to:
Save money in the long run.

Implementing sustainable landscape principles when designing and installing your landscape can reduce your water bill, lead to less replacement costs, and drive down your electricity usage. As much as you're willing to give to the environment, the environment will give back to you.

Enjoy the convenience of state-of-the-art technology.

Our Smart-Phone controlled irrigation systems with rain sensors are just one example of the modern technology we can put to work in landscapes all over Parker. Not only does this tech reduce your carbon footprint, but it also adds an extra layer of convenience to your landscape maintenance.

Create a lush landscape with Colorado's most beautiful trees, shrubs, and flowers.

One of the most powerful ways to combat climate change is crafting a landscape of diverse plants that showcase Parker's natural beauty. Choosing the right variety of plant for a specific location will increase their longevity, use less water, and look healthier than other options, giving your landscape a beautiful boost.
These Sustainable Custom Landscapes Give Back to the Earth AND Turn Heads
Our team has been designing and building environmentally sustainable landscapes ever since the shift to green living began. By meshing this rich experience in sustainability with our expert team of designers, your end result will be both beautiful and responsible. To see more examples of the exquisite sustainable landscapes we've built for your neighbors here in Parker, browse our portfolio.
Integrate Sustainable Landscaping with Our Other Tried-and-True Residential Landscaping Services
Here at American Design & Landscape, we offer a diverse array of services that fulfill the unique needs of our clients. Take a look at our other flagship services to see which one is the right choice for your situation.
Your Path to a Gorgeous, Environmentally Responsible Landscape is Smooth, Simple, and Expertly Guided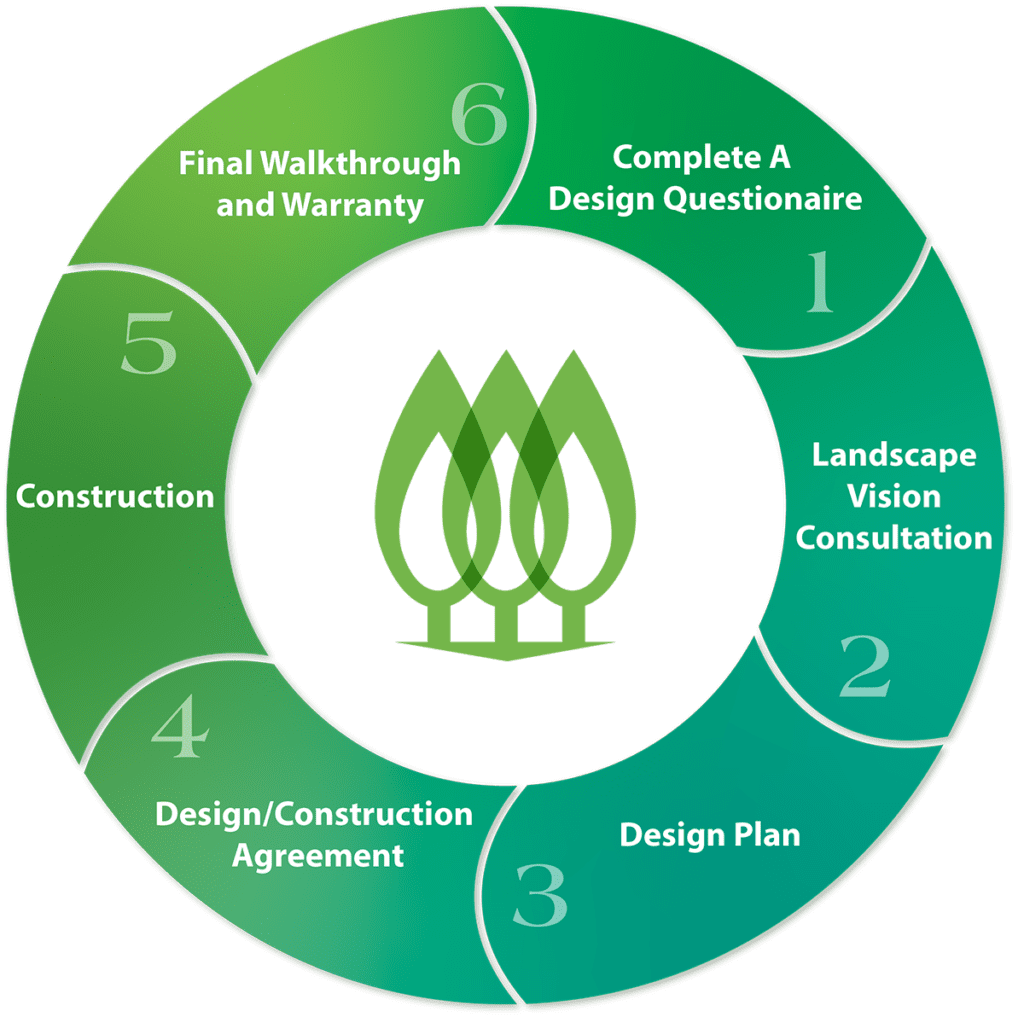 Your lifestyle is the keystone to a beautiful landscape design. Our client-centric process makes it easy for you to find design elements you love, express yourself, and get the custom landscape of your dreams. Start your journey by completing your design questionnaire.
Your satisfaction is our top priority across every stage of your landscape project. Your landscape designer will be heavily involved in the process and will be in frequent communication, keeping you fully updated on your project's progress. From start to finish, you'll rest easy knowing our team is handling all the logistics. Schedule a Landscape Vision Consultation Meeting today to get started.
We're Proud to Provide World-Class Service Right Here in Our Hometown of Parker, Colorado
We live and work in the South Metro and greater Parker, Colorado, area, and we love making this community even more beautiful. Our team brings landscaping expertise, a genuine love of Colorado's natural beauty, and commitment to detail to each of our residential projects in these service areas:
Join Our Team of Skilled Designers, Landscape Architects, Sprinkler Techs, and Builders
If you love creating beautiful landscapes in the Parker, Colorado, and South Metro area, browse our careers page for available positions. We're a family-owned business, and we care about our team. We are always looking for professional designers, architects, sprinkler technicians and skilled landscapers who want to advance their career and skills with our local landscaping company. Our company takes pride in treating our employees like family, providing advanced equipment and safety gear, and offering continuing education and training opportunities. Learn more about our benefits and available positions.
Designing a Sustainable Yet Elegant Landscape Is Easier than Ever Before with Our Expert Team
All it takes to get started building your custom, sustainable outdoor space is one call to our attentive team. American Design & Landscape's mission is giving you the landscape that meshes seamlessly with your lifestyle and desires, including your commitment to going green. Whether you're looking for redesigned landscape, a brand-new outdoor dining area, or anything else imaginable, we have decades of experience crafting custom solutions for homeowners just like you. Give us a call to schedule your Landscape Vision Consultation Meeting and get started!