Enjoy a Multifunctional, Elegantly Designed Outdoor Living Space For Your Parker, Colorado Lifestyle
Build Your Landscape to Reflect What You Love Most by Taking Your Favorite Spaces Outdoors
Whether it's eating family dinners while watching the sunset, reclining back in a lounge chair to read your favorite book, or cooking delicious meals for your neighbors and friends, outdoor living takes what you love most and brings it outside. Partnering with American Design & Landscape means you'll experience the bliss of sitting back and relaxing in your new space sooner than you ever thought possible, while adding value to your home. Our outdoor living design and construction services will take your ideas, as wild or as simple as you please, from vision to reality with minimum inconvenience and maximum results.
Your ideas are always at the forefront of our work from design to construction. Our singular mission is building a space that perfectly reflects your unique lifestyle. When you work with us to design your outdoor space, you'll be assigned a personal Designer/Architect who will be on your project until it's finished, including making regular visits to your home during the construction phase. We're committed to providing the best customer service possible to every homeowner we serve in Parker, because we believe that making your dreams come true starts with listening to what you want.
Your path to an outdoor living space that the whole family can enjoy is simple and expedient with American Design & Landscape. To get started working with our diverse team of certified landscaping experts, give us a call today!

Your Friends and Neighbors in Parker Have a Lot to Say about Our Exceptional Process and Products
Joanna and I thank you for a wonderful job. From start to finish the experience has again been wonderful. From the planning and communication to the effort of your employees including daily and final cleanup was excellent.
- Brett A.
Not only did they complete the job in a timely manner but also ended up going above and beyond with leaving my back yard looking better than when they arrived on the first day.
- Emily E.
ADL has been our landscape maintenance contractor for more than 7years now and they do a fantastic job.  I work with Michael and he is great.  He is responsive to our needs, returns phone calls quickly and shows a genuine concern for our property and the importance of keeping it looking beautiful.  He keeps us informed of the progress of all on going projects and sees them thru to fruition.  ADL uses quality plantings and products and is very reasonable in keeping our costs within reason.  They also do our snow removal during the winter and keep our streets and sidewalks clear and safe all winter long.  In short they are the best.  I would highly recommend ADL to any community and or individual any time.  In short they are the best landscape and design and landscape maintenance company out there. 
- Steve C.
We had quite a bit of landscaping done in our backyard and we were extremely impressed with American Design and Landscape. Mike did a great job putting together a plan as well as making great suggestions to us to help our maintenance be less. The project started right on time and the crew worked hard every day providing us with a beautiful new landscape. They also finished right on time and left our yard very clean. I'd recommend this company to anyone. We definitely will be using them for any future projects we have. Thanks American Design and Landscape!
- Ashley D.
Great company to work with. Easy to meet, on time and great design work!
- Michael H.
No matter what type of outdoor space you're looking for--dining, cooking, lounging, playing or anything else--we've already built a similar space for one of your neighbors right here in Parker. Our long roster of praise means we know exactly how to construct your landscape thoroughly and efficiently, but our custom design services ensure that your space will look completely different from anything we've done before. To read more about what our past customers have to say about our outdoor living services, take a look at our testimonials.
Our Outdoor Living Spaces are Designed to Maximize Your Properties Potential
Creating a custom outdoor living area gives you a new space to do the things you enjoy with the people you love. You'll deepen your connection with nature, soak up the sun or the evening stars and experience the blissful beauty of Colorado all while participating in the activities you already can't get enough of. In addition to the happiness you'll encounter in your new space, working with our experienced team to create your custom outdoor living area offers several benefits. When you partner with us, you'll experience the perks of:
A team of experts.

Working with American Design & Landscape means working with top-rated experts in every field. No matter what you want to create, our experts are certified to provide it.

Design-based construction that puts your needs first.

Ultimately, the reason you're building an outdoor living space is to use it. We're committed to giving you a space that you'll constantly use and love by being attentive to your individual wants and needs during the design and construction process.

Sustainable options to match your lifestyle.

If you're committed to reducing your environmental impact and want a custom landscape that reflects your responsible lifestyle, our sustainable landscaping solutions are a great choice. From sustainable design practices to state-of-the-art irrigation systems, we're committed to giving back to the earth in everything we do. Our motto says it all "Over 50 Years of Earth Friendly Work".
Take a Look at These Stunning, Functional Spaces We've Crafted for Homeowners All Over Parker
The key to an exceptional outdoor living space is fusing the functionality you need with the design style you want. Our team of expert designers are ready to give you the beautiful custom touches that make for incredible outdoor living areas, including outdoor kitchens, fireplaces, amazing patios, sport courts, synthetic turf areas, and so much more. For more examples of our expertise in action, browse our portfolio.
Enhance Your New Outdoor Space with Our Top-Rated Landscaping Services
Here at American Design & Landscape, we offer a diverse array of services including but not limited to outdoor living. Take a look at our other flagship services to see which one is the right choice for your unique needs.
From Initial Consultation to Finished Product, Your Design Ideas Come First in Our Tried-and-True Process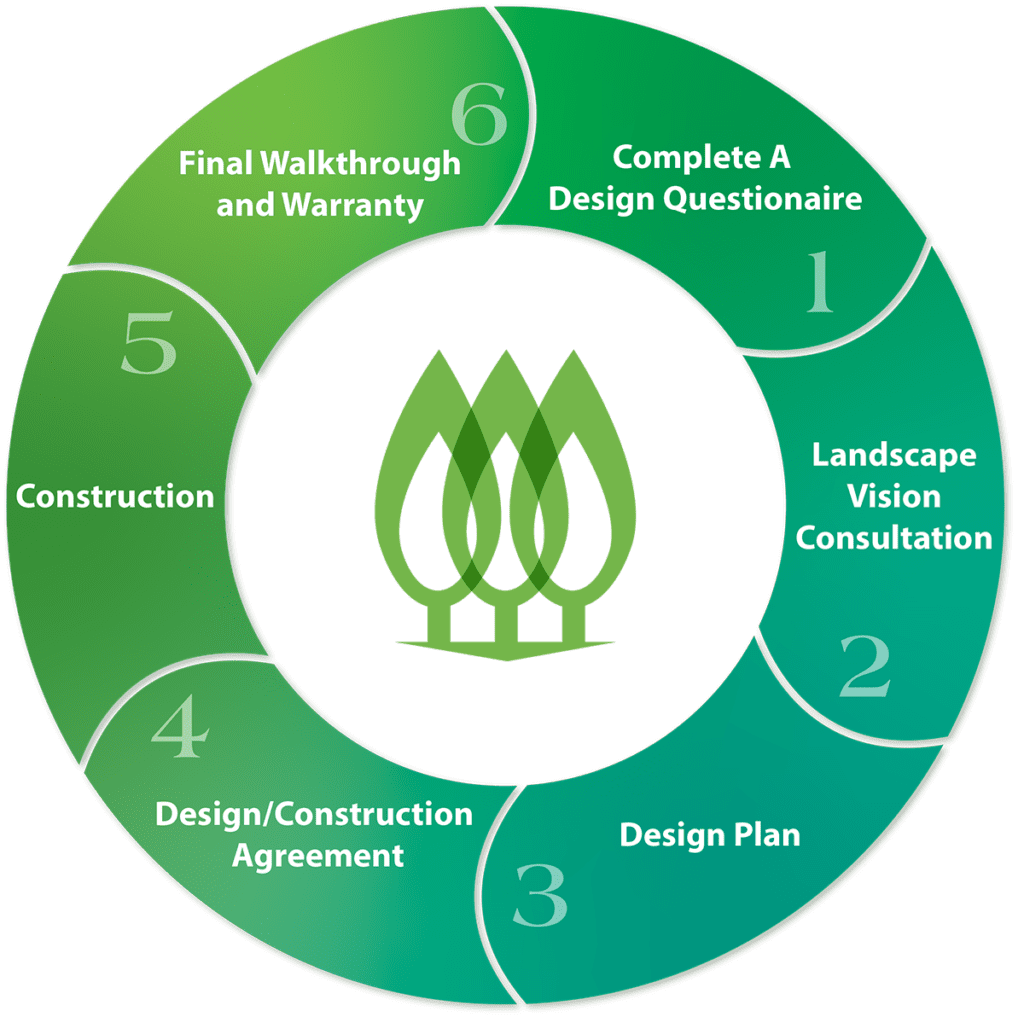 Your lifestyle is the keystone to a beautiful landscape design. Our client-centric process makes it easy for you to find design elements you love, express yourself, and get the custom landscape of your dreams. Start your journey by completing your design questionnaire.
Your satisfaction is our top priority across every stage of your landscape project. Your landscape designer will be heavily involved in the process and will be in frequent communication, keeping you fully updated on your project's progress. From start to finish, you'll rest easy knowing our team is handling all the logistics. Schedule a Landscape Vision Consultation Meeting today to get started.
Parker, Colorado is Our Home, and We're Proud to Serve the Area with Local Flair
We live and work in the South Metro and greater Parker, Colorado, area, and we love making this community even more beautiful. Our team brings landscaping expertise, a genuine love of Colorado's natural beauty, and commitment to detail to each of our residential projects in these service areas:
Join Our Team of Skilled Designers, Landscape Architects, Sprinkler Techs, and Builders
If you love creating beautiful landscapes in the Parker, Colorado, and South Metro area, browse our careers page for available positions. We're a family-owned business, and we care about our team. We are always looking for professional designers, architects, sprinkler technicians and skilled landscapers who want to advance their career and skills with our local landscaping company. Our company takes pride in treating our employees like family, providing advanced equipment and safety gear, and offering continuing education and training opportunities. Learn more about our benefits and available positions.
The Gorgeous, Versatile Outdoor Living Area You've Always Wanted Is Just One Call Away from Becoming Reality
If you're looking for a professional, a timely team of experts who prioritize your desires throughout the design and installation process, look no further than American Design & Landscape. With over fifty years of experience building a wide variety of exceptional outdoor living spaces, you can rest easy knowing that our expert team will make your landscape dreams come true, and add value to your landscape. If you're ready to get started on your journey to landscape bliss, get in touch with us today!