Explore Our Open Landscaping Jobs and Join Our Team of Outdoor Enthusiasts, Landscaping Experts, and Outdoor Living Specialists
We Create & Install Custom Residential Landscapes and Outdoor Living Spaces, and Manage Commercial Landscapes — and You Can Join Our Specialized Team
American Design & Landscape is a family-owned landscaping company, specializing in residential design, installation, and renovation along with commercial landscape management. We specialize in custom landscape and outdoor living space design services for homeowners in Parker, Colorado, and the surrounding area. We're looking for skilled team members who are passionate about landscape design, landscape construction, and commercial property maintenance.
Our team is known for creating beautiful, customized outdoor spaces via a technology-forward design process that focuses on each customer's design preferences and vision. If you're a passionate individual interested in creating top-notch custom outdoor living spaces and landscapes that capture the beauty of Colorado's nature, let's talk. We're always on the lookout for skilled team members with a drive to work with and excel in a first class landscaping team, as well as designers and sales professionals with experience and certifications in their specialty.
Apply at American Design & Landscape and Find the Career Possibilities That Suit Your Commercial and Residential Expertise
Our team is always looking for opportunities to grow. Fill out the form to apply to join our team of expert landscaping professionals and builders.
We're a Family Company That Treats Our Employees with Respect and Invests in the Comprehensive Well-Being of Our Team
The core tenets of our business are thoughtful design, communication, and certified team members. Our project designers have excellent communication and coordination skills so they can manage client communications and expectations from start to finish. Our company invests in the education of every team member, offering classes, seminars, and additional training opportunities to ensure our team has cutting edge landscaping and design knowledge.
A focus on team education and career advancement makes our company a top-tier source for custom, environmentally-friendly landscapes. As part of our technology-forward approach, our design team members gain an excellent understanding of Dynascape landscape design software and 3D rendering software. This focus on advancement and expertise is an essential element of American Design & Landscape's commitment to excellence and unparalleled service.
Treating our employees with respect and ensuring an excellent work-life balance is important to every team member. Benefits of working for American Design & Landscape include: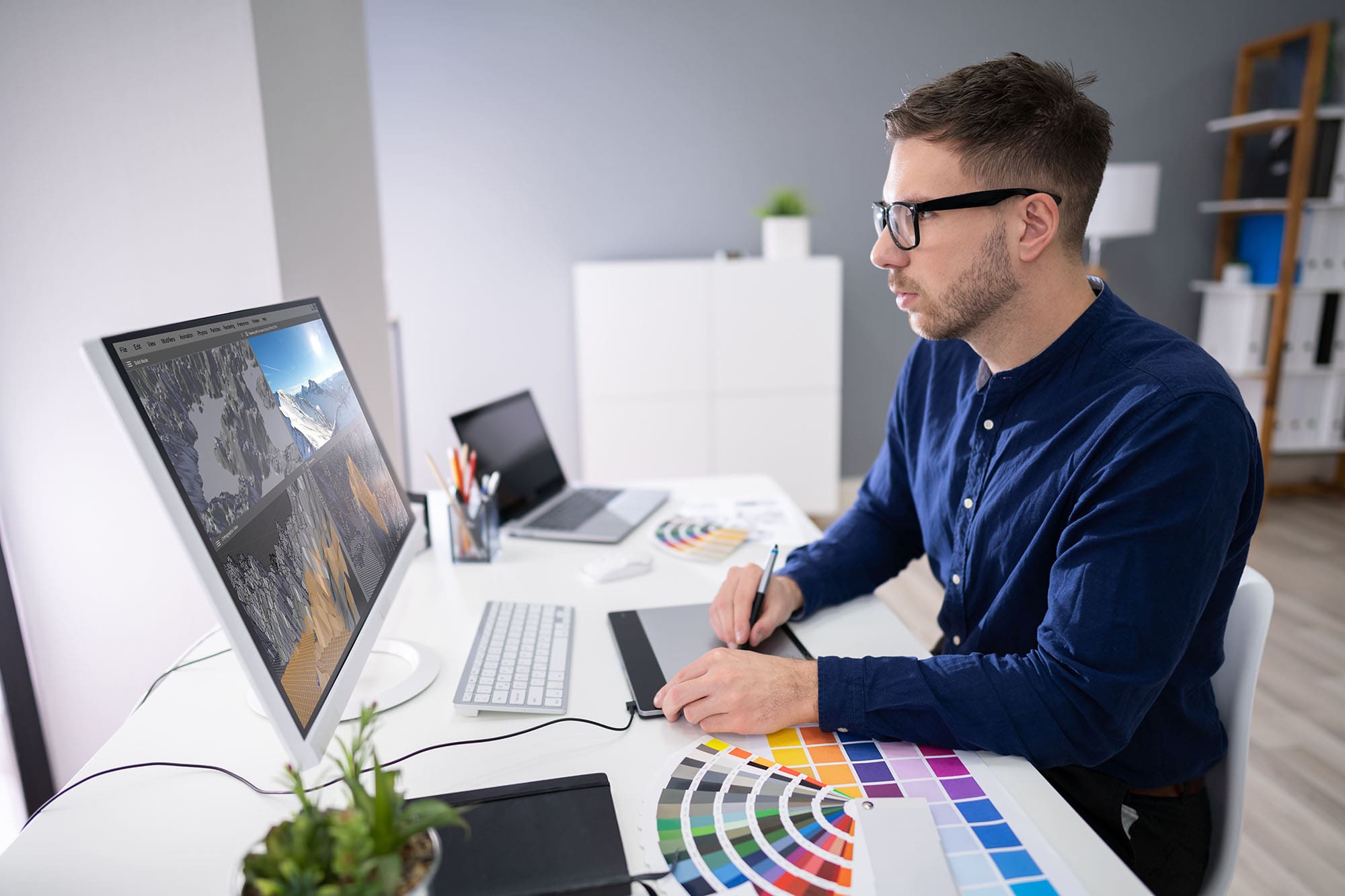 Access to unique custom projects

We have tight-knit teams of landscape designers, architects, and builders who work together to create stunning landscapes that suit each customer's design style. Working for American Design & Landscape is an excellent way to grow your skills and develop your portfolio.

Work on residential and commercial landscapes

American Design & Landscape handles landscaping jobs for both residential customers who want a brand new landscape or an update on their existing landscape and commercial property owners who want landscape enhancements and annual maintenance programs. Our team members can work with a wide range of clients to find their specialty.

Fun workplace atmosphere

We're a family-focused company, and we know how important it is to have both a fun workplace and a balance between work and your personal life. That's why we have numerous get-togethers such as our End of the Season BBQ at our 5 acre facility, Top Golf parties, group dinners, and more.

Snacks and perks

Our teams come together for meetings with food and Donut/Breakfast Burrito Fridays

Access to tax-advantaged retirement and education plans

Our employees can invest in our Simple IRA plan and 529 plans. We offer up to a 3% matching employer contribution to each employee's IRA with just a 2-year vesting period, and an employer contribution of up to $2,500 for our employees' 529 plans.

Plenty of time off

Enjoy time off during the seasonal holidays

Bonuses

Team members can qualify for seasonal bonuses, performance-based bonuses, gift cards, and other incentives.

A technology-forward workplace

At American Design & Landscape, we have our own mechanic shop and an in-house mechanic to keep our equipment well maintained. Our updated landscape equipment makes work more efficient, precise, and safer to operate. We also have LMN access for clocking in on your phone, Dynascape and Sketch up 3D rendering software, and more. We have a large fleet of trucks, skid steers, tractors, trailers and over 100 specialized tools.

Excellent team dynamic

We foster a healthy and pleasant workplace environment that focuses on teamwork, helping everyone succeed, and enjoying what we do. Our company has very low turnover, and we look forward to welcoming team members who are looking for a long-term career.

Excellent time management

Just like our commitment to respecting our customers' time, we respect each employee's time. We use technology to create cohesive communication, and we work a traditional schedule with some flexibility.
We live and work in the South Metro and greater Parker, Colorado, area, and we love making this community even more beautiful. Our team brings landscaping expertise, a genuine love of Colorado's natural beauty, and commitment to detail to each of our residential projects in these service areas:
Work Side by Side with American Design & Landscape's Founders and Core Team
Our founder, Gary D. Smith, created American Design & Landscape to beautify Parker, Colorado, and the surrounding community one residential landscape at a time. He has over 50 years of experience in the landscape industry. Since opening over 50 years ago, our company has followed his guidance on customer service, commitment to excellence, and design-forward processes.
Our team also includes Kristina Smith-Becker, our company president who brings over 38 years of professional experience in the landscape industry, Steve Bednarchik, Chief Landscape Designer, earning a degree in Horticulture and Landscape Design and Construction possessing over 35 years of experience including multiple industry certifications and award winning landscape projects, Mike Morris, Head Landscape Architect, Mike has been a licensed architect for over 30 years earning six landscape awards for residential landscape design, Jim Vogt, Operations and Irrigation Director, a certified landscape irrigation auditor with over 25 years of experience in irrigation design, installations, and operations, Mike Wilson, our Director of Landscape Maintenance with multiple industry certifications and a degree in Horticulture and Landscape Design and Construction. Our team has also grown to include 40 full time landscapers.
Apply Today to Our Open Landscaping Jobs and Join Our Team of Expert Landscape Designers, Architects, and Builders in Parker, Colorado
We invite you to apply to our company and enjoy a fulfilling job of creating, installing, and maintaining landscapes in Parker, Colorado, and the surrounding area. We love working in our local community with landscape and design experts who are committed to excellence and creating a positive environment. Click on an open position above or contact us today to learn more.