Take Your Curb Appeal to The Next Level with Our Hands-On, Turn Key Commercial Landscape Maintenance Services in Castle Rock, Colorado
From Lawn Maintenance to Snow Removal, Our Diverse Team of Experts Takes Care of All of Your Needs
With so many factors that go into maintaining an attractive customer-friendly property you need a commercial landscape maintenance team that can handle dozens of different tasks. American Design & Landscape has a strong repeat client base, and we are known for working closely with our clients to ensure they get what they want. Here at American Design & Landscape, we've cultivated an all-star team of qualified and well-trained professionals to keep your property looking good as new.
The strength of our company is our team, and that team includes certified landscape designers, architects, horticulture professionals, irrigation technicians, as well as certified operators and supervisors. Whether it's a complete landscape renovation of your property or creating an award-winning color program we can do it all. Essential services like fertilization, broadleaf weed control, lawn aeration, mowing, and irrigation management are just the beginning of what we have to offer your business, and with our firm commitment to proactive and responsive communication, assigning the same project manager and crew to your property throughout the season, and scheduling your property maintenance on the same day of each week, you'll never be left out of the loop.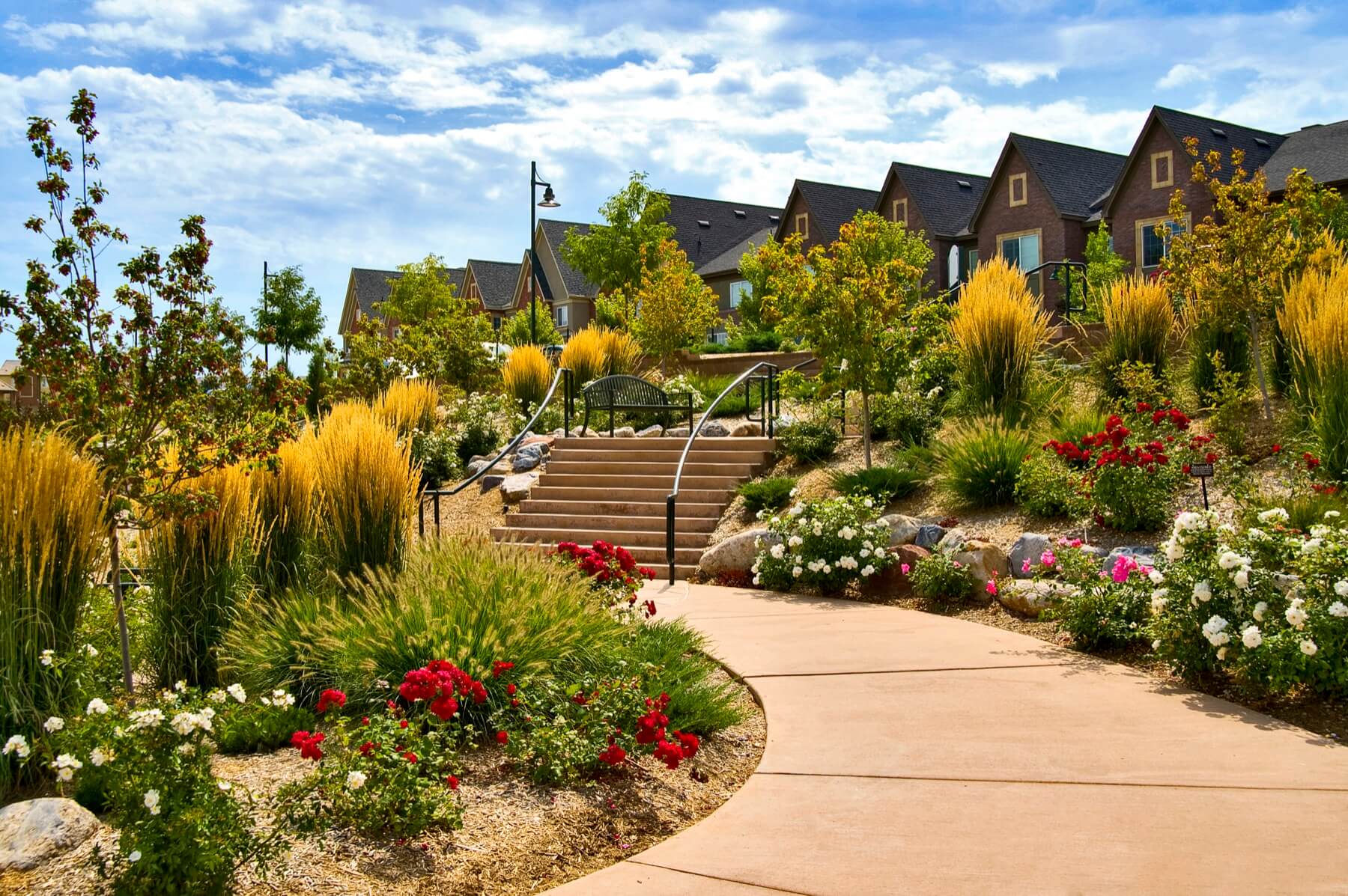 Unlike many other companies in the area who perform landscape maintenance services, American Design & Landscape takes pride in providing superior customer service and striving to exceed our clients' expectations. Over the last 50 years in business, we have been able to perfect our process. American Design & Landscapes Commercial Maintenance Division brings to each client over fifty years of landscaping excellence with a high level of service and support originating from our specialized residential processes and procedures that are at the very foundation of our company. We know that Colorado weather leads to constant upkeep of your property, which is why we offer year-long contracts that include seasonal services such as pruning, flower installation, irrigation winterizations, and snow removal.
If you're ready to retire from managing contractors and put all of your commercial landscape maintenance needs under one expert roof, American Design & Landscape is the perfect option for you. Contact us today to learn more about our commercial services and how they can benefit your business.
Explore Commercial Services That We've Spent Over 50 Years Perfecting for Customers Like You
We have a certified staff to handle everything from basic landscape maintenance to complete landscape renovation of the property. Our team performs all of the work, from a professional design team available to create color programs to landscape renovations. Additional benefits of working with American Design & Landscape include:

Our Past Commercial Clients Are Raving About Our Comprehensive Maintenance Services
Working with ADL has been a refreshing experience of first class service. I have been treated with constant professionalism, my community looks beautiful, and the communication is top notch. I highly recommend doing business with American Design and Landscape. Five stars all around!
- The Enclave at Cherry Creek
The Bluffmont Greene Service Area had been doing business with American Design And Landscape for several years. They provide grounds maintenance including mowing and irrigation as well as snow removal service for the homeowners.
ADL is dependable and reliable. The staff is very professional and responsive in maintaining the community.
It is a pleasure to do business with American Design And Landscape. We look forward to continuing this great service in the future.
- Bluffmont Greene
American was professional and one of the contractors we did not have to spend a lot of time managing. The product was complete and on time. Any call backs were dealt with upon request.
- Centerre Construction
ADL has been our landscape maintenance contractor for more than 7years now and they do a fantastic job. They are responsive to our needs, return phone calls quickly and show a genuine concern for our property and the importance of keeping it looking beautiful. In short they are the best landscape and design and landscape maintenance company out there.
- Lincoln Park
Just like the success story above, your business can unlock the freedom that comes with handing your landscape maintenance over to the pros. But don't just take it from us; visit our testimonials page to read what dozens of other satisfied customers have to say about American Design & Landscape.
Professional Lawn Maintenance Gives You Freedom to Focus on The Big Ideas You're Excited About
Everyone on our team here at American Design & Landscape is passionate about landscape maintenance, which means you don't have to be! Working with our commercial lawn maintenance and year-round landscape services means no more coordinating contractors, waiting around for your crews to show up, or seeking out individual companies for each of your needs. We have everything you need under one roof, and we will always respect your time by working quickly and efficiently on your property. Some other major benefits of putting your landscaping into to our capable hands include:
High communication standards that make it easy to get your questions answered.

We are open from 8:00 – 5:00 every weekday, and after hours we have a team on call 24 hours a day.

Increased sustainability on your property.

We have a number of certified sustainable team members on staff who focus on reducing waste and energy usage for our clients. New low water use irrigation systems with remote controllers can be installed to reduce water and energy usage.

Consistent timing.

We know it's frustrating when contractors arrive late or show up unannounced. As one of the most qualified landscape maintenance companies in the greater Castle Rock area, we're dedicated to taking all of those worries away. Our tightly-coordinated maintenance crews are timely and efficient, so you'll never have to reschedule around our team.
See Our Sustainable, Expert-Led Commercial Services in Action at Businesses Near You
When it comes to our success, these gorgeous images are only the tip of the iceberg. In our over 30 years of service here in Castle Rock, we're proud to have worked with hundreds of companies to brighten and maintain their landscapes and lawns. To see just how much our services can up your curb appeal, take a look at our portfolio.
In Addition to Our Maintenance Services, we Offer a Wide Variety of Technology-Driven Services for Commercial and Residential Clients
While we offer dozens of services that fit your individual needs, our top skills include:
We're Proud to Provide World-Class Landscaping Services to Our Own Local Community in Castle Rock, Colorado and the Surrounding Area
We live and work in the South Metro and greater Parker, Colorado, area, and we love making this community even more beautiful. Our team brings landscaping expertise, a genuine love of Colorado's natural beauty, and commitment to detail to each of our residential projects in these service areas:
Join Our Team of Skilled Designers, Landscape Architects, Sprinkler Techs, and Builders
If you love creating beautiful landscapes in the Parker, Colorado, and South Metro area, browse our careers page for available positions. We're a family-owned business, and we care about our team. We are always looking for professional designers, architects, sprinkler technicians and skilled landscapers who want to advance their career and skills with our local landscaping company. Our company takes pride in treating our employees like family, providing advanced equipment and safety gear, and offering continuing education and training opportunities. Learn more about our benefits and available positions.
Hand Your Landscape Woes to Castle Rock's Landscape Pros with One Simple Call Today
Our comprehensive commercial lawn maintenance services will give you the perfectly-maintained curb appeal that you need to take your business to the next level. With our team, there's no more worrying about coordinating contractors or waiting around for your crews to arrive. We're focused on providing timely, expert-led services that will constantly raise the bar higher. If you're ready to transform your landscape maintenance experience, get in touch with our team today.