Beautify Your Home with Residential Landscaping Design and Installation Services from American Design & Landscape
Our Team of Designers, Architects, and Builders Create Customized Landscapes for Centennial, Colorado, Homeowners
If you've just moved to a new home in Centennial, Colorado, or you want to update your current home's exterior to match your personal aesthetic, American Design & Landscape is here to help. The powerful combination of our complete design and installation service is the only way to get your project handled by a single, expert team from start to finish. Starting with a customized design consultation, we'll put your vision first and foremost to make sure every detail hits the mark. Our digital design process and 3D renderings will ensure your design is a perfect match before we put our expert installation team to work. Communication, care, and a hassle-free process await you.
Our design-forward landscaping services are built to be an end-to-end solution for discerning outdoor enthusiasts and nature lovers. We love creating unique, vibrant landscapes and premium outdoor living spaces, and our clients love both the design process and the finished product. If you've been burned by uncommunicative contractors who don't get the job done on time or on budget, schedule your design consultation with American Design & Landscape and experience the difference.
Explore our portfolio of beautiful custom landscapes and outdoor living spaces. Every project captures our teams' complete attention to detail and commitment to carry out our customers' unique visions for their outdoor spaces.
Expert Landscaping Services from Centennial, Colorado's Most Experienced Landscaping Design and Maintenance Company
Our team of certified designers, installers, and landscaping specialists are proud to serve both residential and commercial property owners. We work with homeowners to design fully customized landscapes and we handle every step of the installation to ensure high-quality results every time.

We Go Above and Beyond to Ensure Customer Satisfaction
Joanna and I thank you for a wonderful job. From start to finish the experience has again been wonderful. From the planning and communication to the effort of your employees including daily and final cleanup was excellent.
- Brett A.
Not only did they complete the job in a timely manner but also ended up going above and beyond with leaving my back yard looking better than when they arrived on the first day.
- Emily E.
ADL has been our landscape maintenance contractor for more than 7years now and they do a fantastic job.  I work with Michael and he is great.  He is responsive to our needs, returns phone calls quickly and shows a genuine concern for our property and the importance of keeping it looking beautiful.  He keeps us informed of the progress of all on going projects and sees them thru to fruition.  ADL uses quality plantings and products and is very reasonable in keeping our costs within reason.  They also do our snow removal during the winter and keep our streets and sidewalks clear and safe all winter long.  In short they are the best.  I would highly recommend ADL to any community and or individual any time.  In short they are the best landscape and design and landscape maintenance company out there. 
- Steve C.
We had quite a bit of landscaping done in our backyard and we were extremely impressed with American Design and Landscape. Mike did a great job putting together a plan as well as making great suggestions to us to help our maintenance be less. The project started right on time and the crew worked hard every day providing us with a beautiful new landscape. They also finished right on time and left our yard very clean. I'd recommend this company to anyone. We definitely will be using them for any future projects we have. Thanks American Design and Landscape!
- Ashley D.
Great company to work with. Easy to meet, on time and great design work!
- Michael H.
Customer satisfaction is our top priority and we work hard to foster great relationships. With timely communication, attention to detail, an organized and consistent work schedule with unmatched expertise, we will create a beautiful long-lasting landscape for you. Every project has the benefit of a dedicated landscape designer or landscape architect who is onsite regularly, ensuring that each project is handled efficiently. From start to finish, your landscape designer will guide you through our comprehensive landscape design and installation process, providing product samples, sharing 3D models and examples of past projects, as needed assistance coordinating with your HOA, and providing general consultation. Our goal is to leave you with a landscape that exceeds your expectations and increases the value of your home.
Every Landscape Reflects Our Attention to Detail and Commitment to Your Complete Satisfaction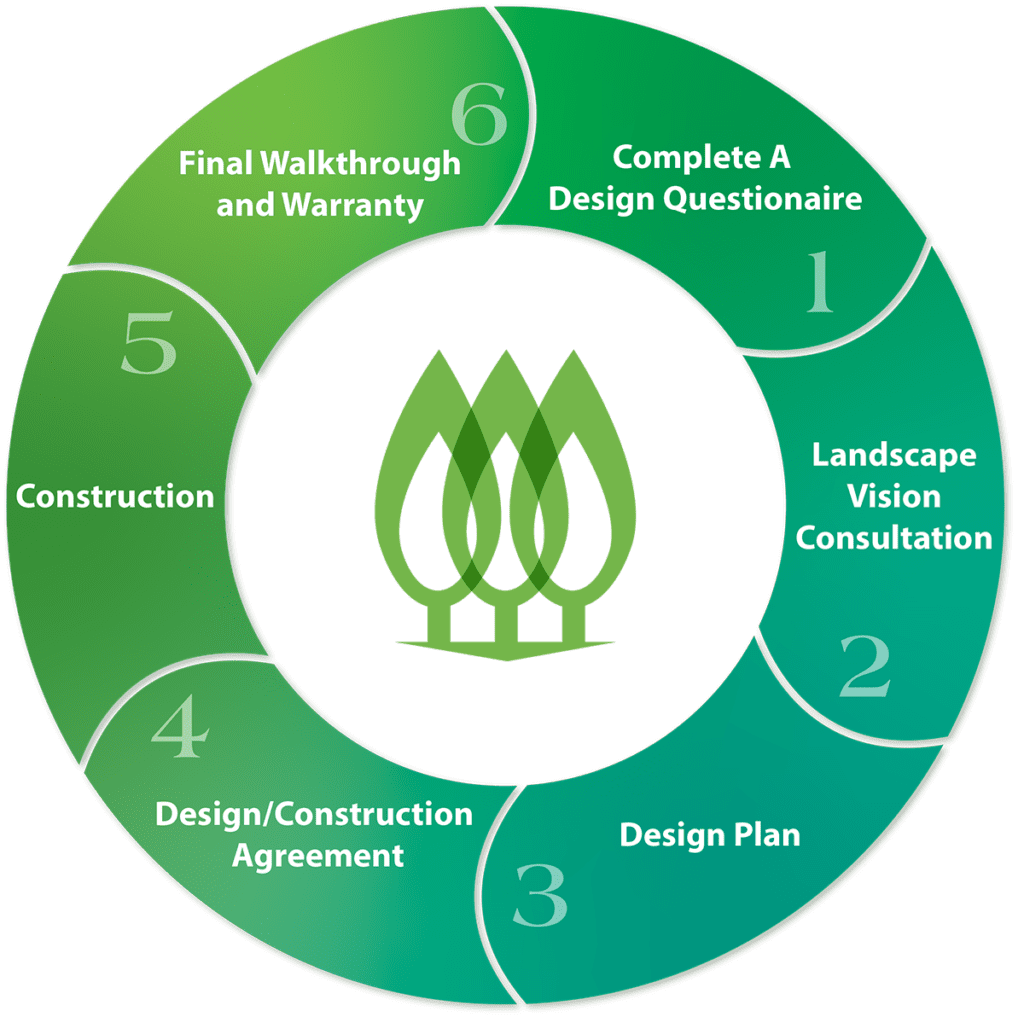 Your lifestyle is the keystone to a beautiful landscape design. Our client-centric process makes it easy for you to find design elements you love, express yourself, and get the custom landscape of your dreams. Start your journey by completing your design questionnaire.
Your satisfaction is our top priority across every stage of your landscape project. Your landscape designer will be heavily involved in the process and will be in frequent communication, keeping you fully updated on your project's progress. From start to finish, you'll rest easy knowing our team is handling all the logistics. Schedule a Landscape Vision Consultation Meeting today to get started.
Join Our Team of Skilled Designers, Landscape Architects, Sprinkler Techs, and Builders
If you love creating beautiful landscapes in the Parker, Colorado, and South Metro area, browse our careers page for available positions. We're a family-owned business, and we care about our team. We are always looking for professional designers, architects, sprinkler technicians and skilled landscapers who want to advance their career and skills with our local landscaping company. Our company takes pride in treating our employees like family, providing advanced equipment and safety gear, and offering continuing education and training opportunities. Learn more about our benefits and available positions.
Take the First Step Today by Scheduling a Landscape Vision Consultation Meeting
Your dream landscape is just a few steps away. Contact us today to schedule a consultation. Our team is ready to transform landscapes in Centennial, Colorado, and the surrounding area. Just share your vision with us and watch our expert team go to work.