Streamline Your Landscaping Needs with Our Comprehensive, Expertly Managed Commercial Landscape Maintenance Services in Lone Tree, Colorado
Our Full-Service Maintenance Strategy Takes Care of Your Landscaping and Lets You Focus on Your Bigger Goals
At one time or another, every commercial business needing maintenance services has struggled to wrangle landscaping crews, coordinate servicing schedules, and work around noisy lawn maintenance services. American Design & Landscape's goal is to make those problems disappear for businesses all over Lone Tree that take pride in keeping their properties beautiful.
Working with us means working with experts in every area from Landscape maintenance, Landscape Installation, Irrigation Management to snow removal. Handing your landscaping woes over to our capable team allows you to sit back and focus on the parts of your business that demand more of your attention while we take care of everything else. We offer dozens of services, including irrigation management, lawn care, mulching, landscape design and installation, and much more. When you set up an annual contract with us, you'll also gain access to our seasonal snow removal services. No matter what services you choose to incorporate into your maintenance routine, you'll enjoy the open communication, (on call staff) sustainable initiatives, and design-oriented care that are central to our mission.
If you're ready to stop worrying about finding contractors for your diverse needs and instead put all of your concerns under one expert roof, American Design & Landscape is the best choice in Lone Tree, Colorado and the surrounding area. Reach out to our team today to begin creating your custom maintenance plan.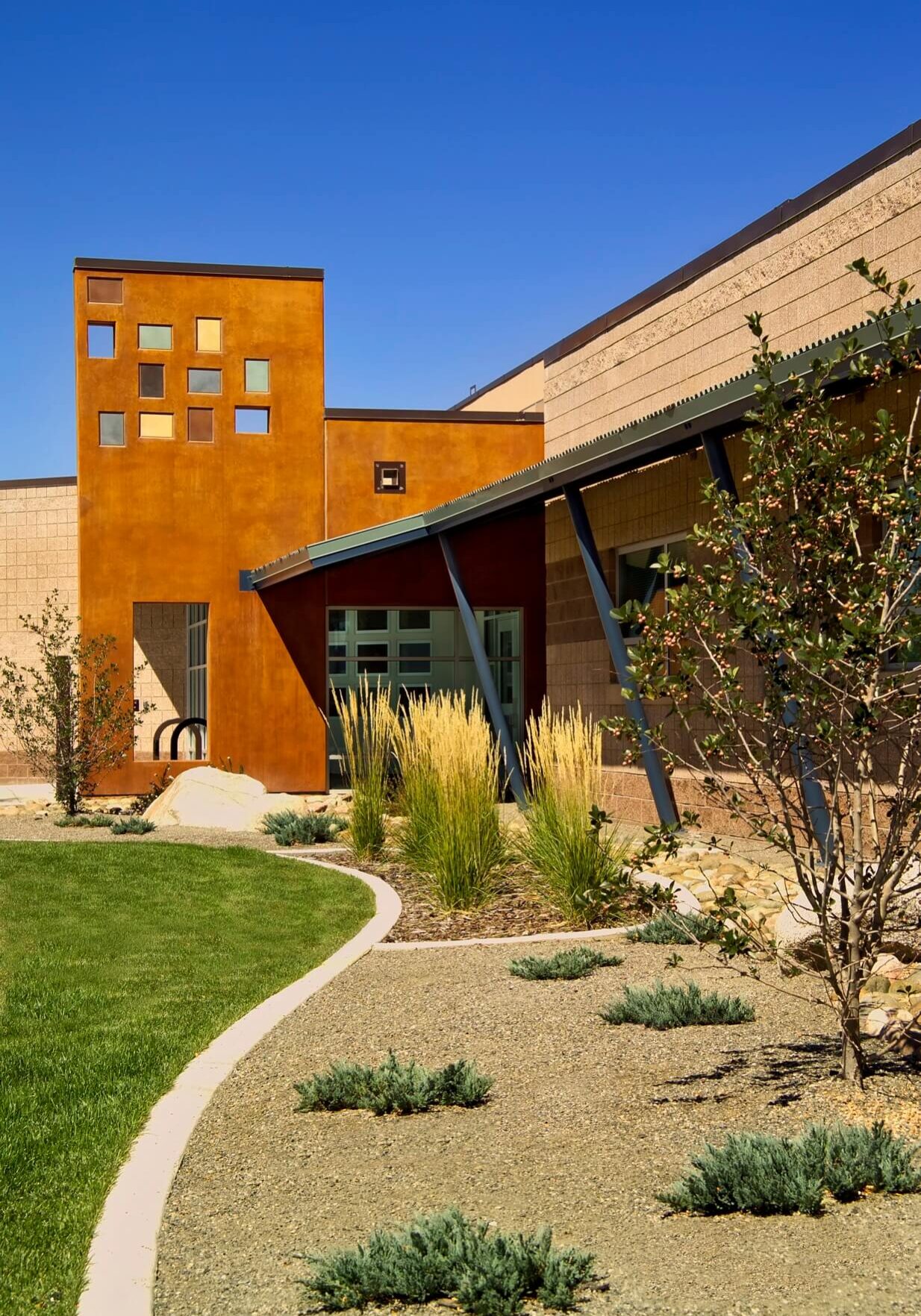 Explore Commercial Services That We've Spent Over 50 Years Perfecting for Customers Like You
Our headquarters are within 10 minutes drive to Lone Tree, we have a certified staff to handle everything from basic landscape maintenance to complete landscape renovation of the property. Our team performs all of the work, from a professional design team available to create color programs to landscape renovations. Additional benefits of working with American Design & Landscape include:

Diverse Businesses All Over Lone Tree Are Raving about Our Efficient, Minimally Invasive Commercial Landscape Maintenance
Working with ADL has been a refreshing experience of first class service. I have been treated with constant professionalism, my community looks beautiful, and the communication is top notch. I highly recommend doing business with American Design and Landscape. Five stars all around!
- The Enclave at Cherry Creek
The Bluffmont Greene Service Area had been doing business with American Design And Landscape for several years. They provide grounds maintenance including mowing and irrigation as well as snow removal service for the homeowners.
ADL is dependable and reliable. The staff is very professional and responsive in maintaining the community.
It is a pleasure to do business with American Design And Landscape. We look forward to continuing this great service in the future.
- Bluffmont Greene
American was professional and one of the contractors we did not have to spend a lot of time managing. The product was complete and on time. Any call backs were dealt with upon request.
- Centerre Construction
ADL has been our landscape maintenance contractor for more than 7years now and they do a fantastic job. They are responsive to our needs, return phone calls quickly and show a genuine concern for our property and the importance of keeping it looking beautiful. In short they are the best landscape and design and landscape maintenance company out there.
- Lincoln Park
With over 50 years of experience in the commercial lawn maintenance sector, we've helped a wide variety of businesses tackle their greatest landscaping troubles. This testimonial is one of many that demonstrates the first-class expertise, high level of communication, and responsiveness that drives everything we do here at American Design & Landscape. Keep reading about our past customers' experiences on our testimonials page.
Giving Us the Privilege of Handling Your Maintenance Means Less Stress and More Results
As soon as you transition into our comprehensive maintenance program, you'll never want to go back to the old way. Handing your issues to American Design & Landscape means you won't have to worry about your landscape, let alone take your valuable time to coordinate crews and find the right contractors for odd jobs that pop up. In addition to providing the extra bit of freedom that commercial landscape maintenance allows, our team will:
Provide environmentally friendly options.

We're committed to providing environmentally friendly options for your irrigation systems, which means employing state-of-the-art technology to take advantage of every drop of water. Not only does this reduce your carbon footprint, but it can also cut down on your water bill.

Do it right the first time.

With certified experts in every area from sustainability to weed control, our staff is fully equipped to take care of any commercial landscape maintenance services that you may need. That means you'll never be disappointed in our exceptional service, no matter what your unique situation requires.

Know exactly how to optimize your services for Colorado's climate.

Most of our team is local to the greater South Metro area, which means we're no stranger to the variability of Colorado's weather. Our snow removal, landscape construction, and seasonal lawn care services take advantage of our state's variable nature rather than trying to beat it.
View Some Examples of What You'll See When You Hand Your Landscape Maintenance Responsibilities to Our Exceptional Staff
Our full-service capabilities have transformed these landscapes into thriving exteriors that draw in customers with their incredible curb appeal. For a more complete look into our rich, successful history of commercial lawn maintenance, check out our portfolio.
Get Started with Our Fast-Paced Onboarding Process that Combines All of Your Needs into a Comprehensive Maintenance Plan
Your lifestyle is the keystone to a beautiful landscape design. Our client-centric process makes it easy for you to find design elements you love, express yourself, and get the custom landscape of your dreams. Start your journey by completing your design questionnaire.
Your satisfaction is our top priority across every stage of your landscape project. Your landscape designer will be heavily involved in the process and will be in frequent communication, keeping you fully updated on your project's progress. From start to finish, you'll rest easy knowing our team is handling all the logistics. Schedule a Landscape Vision Consultation Meeting today to get started.
We're Proud to Serve Lone Tree and the Surrounding Areas with Local Flair
We live and work in the South Metro and greater Parker, Colorado, area, and we love making this community even more beautiful. Our team brings landscaping expertise, a genuine love of Colorado's natural beauty, and commitment to detail to each of our residential projects in these service areas:
Join Our Team of Skilled Designers, Landscape Architects, Sprinkler Techs, and Builders
If you love creating beautiful landscapes in the Parker, Colorado, and South Metro area, browse our careers page for available positions. We're a family-owned business, and we care about our team. We are always looking for professional designers, architects, sprinkler technicians and skilled landscapers who want to advance their career and skills with our local landscaping company. Our company takes pride in treating our employees like family, providing advanced equipment and safety gear, and offering continuing education and training opportunities. Learn more about our benefits and available positions.
It's Your Turn to Feel the Freedom That Comes with Our Expertly Managed Comprehensive Landscape Maintenance Services
All it takes to release the burden of managing your landscaping and enjoy the thriving exteriors that our teams consistently provide is one simple call. Whether you're looking for just a few services or a full roster of effective solutions, our annual contracts will maximize your curb appeal all year round. To start working with our team of experts right here in Lone Tree, contact us today.