Bring Your Ultimate Landscape Aspirations to Life With Our Landscape Installation Team in Lone Tree, Colorado
At American Design & Landscape, Your Big Ideas Guide the Construction Process From Start to Finish
We've put in the work together to get your ideas on paper and develop the landscape concept of your dreams. Now it's time to take those plans to the next level and break ground with one of Lone Tree's most trusted landscaping companies. We pride ourselves on providing open communication, an excellent team of professionals, timely construction schedules and design-oriented construction to exceed customers' expectations every time. From colorful gardens to functional outdoor living spaces, we're excited to build everything that you've ever wanted for your outdoor areas.
We recognize that starting a construction project at your home often feels inconvenient and daunting. With American Design & Landscape you'll be surprised just how easy the process can be. In an effort to make the process as simple as possible for you, we can provide all the coordination with the necessary utilities, and HOA approval. In fact, the only thing better than the convenience of our construction process is enjoying the final product!
If you've always wanted to enhance the look of your landscape, create an outdoor eating area, build a fire pit or a patio, or make any other improvement to your landscape, American Design & Landscape is the most convenient, high-quality option in Lone Tree, Colorado and the surrounding area. Reach out to our team to learn how we can transform your space with our landscape installation services.

Hear What Your Neighbors Have to Say About Our Seamless Landscape installation Process
Joanna and I thank you for a wonderful job. From start to finish the experience has again been wonderful. From the planning and communication to the effort of your employees including daily and final cleanup was excellent.
- Brett A.
Not only did they complete the job in a timely manner but also ended up going above and beyond with leaving my back yard looking better than when they arrived on the first day.
- Emily E.
ADL has been our landscape maintenance contractor for more than 7years now and they do a fantastic job.  I work with Michael and he is great.  He is responsive to our needs, returns phone calls quickly and shows a genuine concern for our property and the importance of keeping it looking beautiful.  He keeps us informed of the progress of all on going projects and sees them thru to fruition.  ADL uses quality plantings and products and is very reasonable in keeping our costs within reason.  They also do our snow removal during the winter and keep our streets and sidewalks clear and safe all winter long.  In short they are the best.  I would highly recommend ADL to any community and or individual any time.  In short they are the best landscape and design and landscape maintenance company out there. 
- Steve C.
We had quite a bit of landscaping done in our backyard and we were extremely impressed with American Design and Landscape. Mike did a great job putting together a plan as well as making great suggestions to us to help our maintenance be less. The project started right on time and the crew worked hard every day providing us with a beautiful new landscape. They also finished right on time and left our yard very clean. I'd recommend this company to anyone. We definitely will be using them for any future projects we have. Thanks American Design and Landscape!
- Ashley D.
Great company to work with. Easy to meet, on time and great design work!
- Michael H.
Landscape installation is nothing new for us--we have satisfied customers all over the Lone Tree area and beyond. So don't just take it from us that our process is executed on time, minimally invasive, and driven by design. Hear what our other satisfied customers have to say about our landscape installation services.
Customer satisfaction is our top priority and we work hard to foster great relationships. With timely communication, attention to detail, an organized and consistent work schedule with unmatched expertise, we will create a beautiful long-lasting landscape for you. Every project has the benefit of a dedicated landscape designer or landscape architect who is onsite regularly, ensuring that each project is handled efficiently. From start to finish, your landscape designer will guide you through our comprehensive landscape design and installation process, providing product samples, sharing 3D models and examples of past projects, as needed assistance coordinating with your HOA, and providing general consultation. Our goal is to leave you with a landscape that exceeds your expectations and increases the value of your home.
Rest Easy While We Coordinate Your Project From Start to Finish
Without excellent installation, your landscape dreams are just a blueprint. We're committed to making installation just as customer-focused, exciting, and smooth as the design process, allowing you to enjoy your new outdoor space without having to worry. Other benefits of our design-oriented landscape installation include:
Expert-led services that will be done right the first time.

Our staff is comprised of experts in every area, from xeriscaping to outdoor living, that will be able to meet all of your needs with ease. You'll never have to worry about revisiting any portion of the process since our highly-trained staff will get it right the first time.

Construction that's focused on making your designs come to life.

Here at American Design & Landscape, when we put your ideas on paper, we're committed to following through with them. That's why we bring your designer to the construction site on a regular basis, keeping your wishes at the forefront of everything we create.

Open lines of communication to resolve any issues quickly.

We have a full time staff available to respond to calls weekdays from 8:00-5:00 and an after hours call line to respond to an emergency. Consistent communication is just another way that we put your needs first to give you the landscape of your dreams.
Take a Look at How We've Made Past Designs Come to Life
These gorgeous outdoor spaces are just the beginning of the long list of success stories that American Design & Landscape has accumulated in over 50 years of business. Visit our portfolio to see even more of our favorite projects.
From Residential Design to Commercial Yearly Maintenance, We're More than Just a Landscape Installation Company
In addition to our landscape installation expertise, we're also a great option for:
Our Seamless, Design-Oriented Process Keeps Your Landscape Vision at the Forefront of Your Entire Project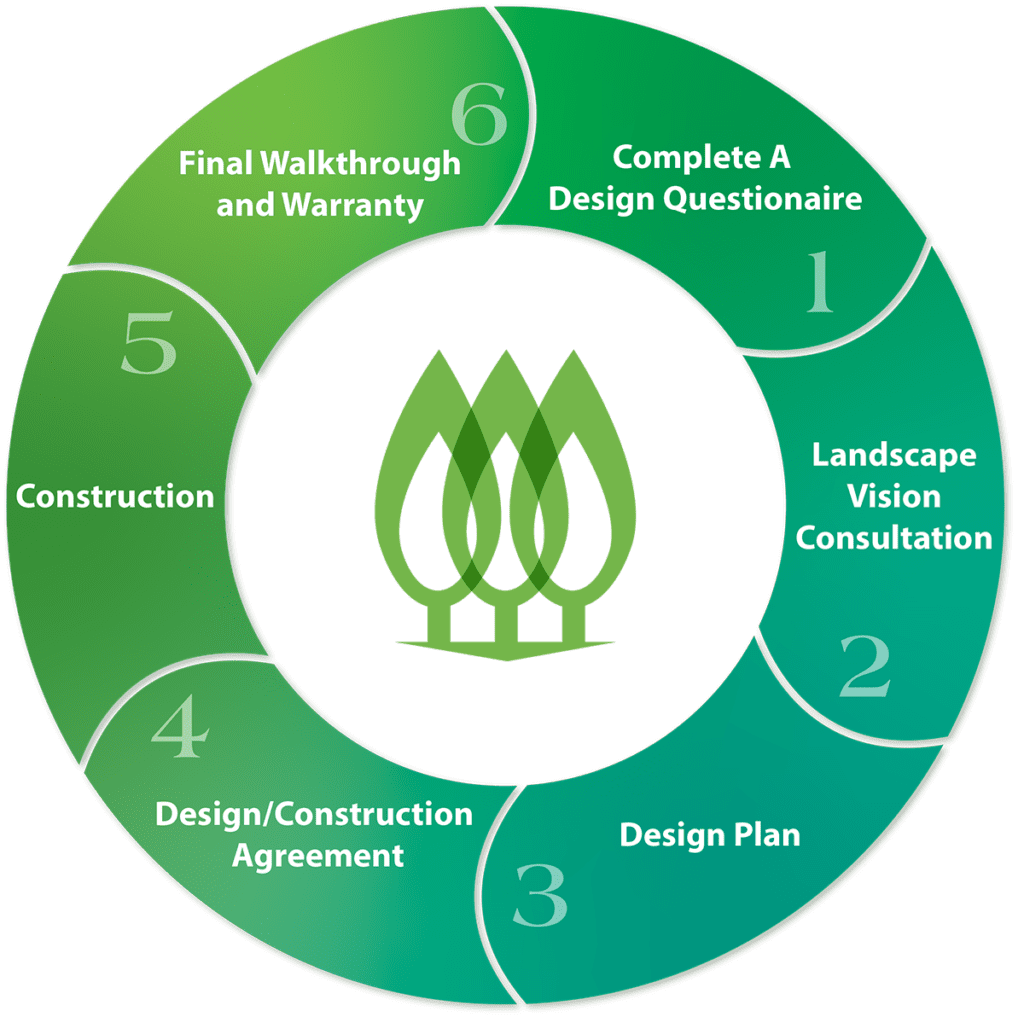 Your lifestyle is the keystone to a beautiful landscape design. Our client-centric process makes it easy for you to find design elements you love, express yourself, and get the custom landscape of your dreams. Start your journey by completing your design questionnaire.
Your satisfaction is our top priority across every stage of your landscape project. Your landscape designer will be heavily involved in the process and will be in frequent communication, keeping you fully updated on your project's progress. From start to finish, you'll rest easy knowing our team is handling all the logistics. Schedule a Landscape Vision Consultation Meeting today to get started.
We're Proud to Have Served Homeowners in the Lone Tree Area for Over 24 Years
We live and work in the South Metro and greater Parker, Colorado, area, and we love making this community even more beautiful. Our team brings landscaping expertise, a genuine love of Colorado's natural beauty, and commitment to detail to each of our residential projects in these service areas:
Join Our Team of Skilled Designers, Landscape Architects, Sprinkler Techs, and Builders
If you love creating beautiful landscapes in the Parker, Colorado, and South Metro area, browse our careers page for available positions. We're a family-owned business, and we care about our team. We are always looking for professional designers, architects, sprinkler technicians and skilled landscapers who want to advance their career and skills with our local landscaping company. Our company takes pride in treating our employees like family, providing advanced equipment and safety gear, and offering continuing education and training opportunities. Learn more about our benefits and available positions.
Sit Back and Relax as Our Expert, Seasoned Installation Team Builds the Unique Landscape You've Always Wanted
Here at American Design & Landscape, we believe that landscape construction should never be a burden to you. We're dedicated to making the process as painless as possible by coordinating with your utilities, bringing in our best experts, and incorporating your ideas into your landscape. If you're ready to take your landscape dreams from fantasy to reality, contact us today to see how our seamless residential landscape installation services can work for you.